We will be travelling to Honduras in August 25th-August31st, 2018 to provide Medical/Dental/Public Health services to rural, under-resourced communities in Honduras!
Join us in our efforts to empower communities one brigade at a time!
Applications close this January 31st, 2018 at 11:59pm.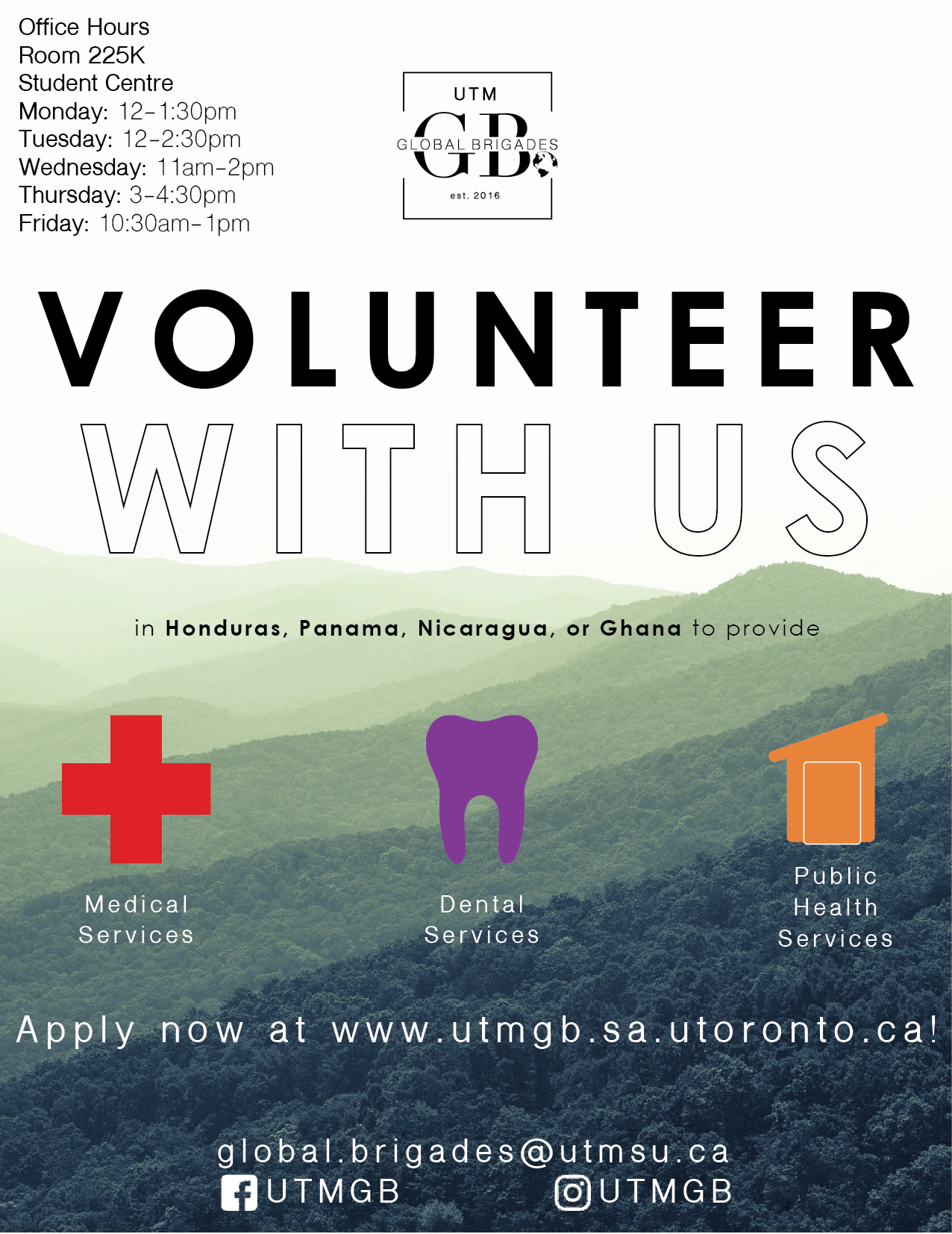 FAQs:
Who is eligible?
Anyone over the age of 18! In the past we have travelled with students, nurses, doctors, occupational therapists, etc.
How difficult is it to get accepted into UTMGB's medical brigade?
It is not difficult at all. As long as you have an open mind, a will to learn, and a compassionate nature, you're in!
How does the application process go?
After our applications close this January 31st, 2018, we will review them and have a casual interview with you! We will e-mail you after to let you know how to proceed after!
Do I have to pay any deposit?
Once you get an acceptance e-mail, we require you to pay a $250 non-refundable deposit to secure your spot. The reason for this is we start booking our flights right away and airlines require us to put down a deposit to secure our spots on the plane as a group!
How long is the trip?
7 days including traveling!
What do we do there anyway?
We assist in providing medical, dental, and public health services! We also get the opportunity to shadow doctors, dentists, optometrists, and other healthcare professionals. Visit us during our office hours to learn more.
How much is the trip?
The entire brigade will cost $1275 CAD which includes accommodations, transportation within the country, food, security, and labour fee. The flight cost is separate!
How much does the flight cost?
It depends every year! Last August 2017, we paid $875 for a round trip! The sooner the booking is better and we are trying to book our flights ASAP to get a cheaper ticket!
Can I book my own flight?
Yes! However, if any problem arises with you flight, Global Brigades will not be able to help you. We recommend you book your flight with us or book the same flight itinerary as ours!
Do I have to bring extra money?
We recommend you bring money to buy food at the airport. Canada does not have a direct flight to Honduras, so we will have a layover in the U.S.. Feel free to bring pocket money if you want to buy snacks or souvenirs! Global Brigades has small shops at the place we're staying at!
Where do we stay?
Global Brigades has properties we call compounds. The compound has dormitory style bedrooms, washrooms, kitchen, dining hall, great scenery, shop, laundry room, etc!
How's the security like in Honduras?
Of course, we cannot guarantee that nothing bad will happen, but we have cops, soldiers, and staff members guarding the compound and escorting us everywhere we go! We have never had any problems with anything! Honduras is a beautiful country and we have experienced nothing, but great moments!
Can I go somewhere else?
UTMGB will be going to Honduras this August 25th-31st, 2018. However, we have various chapters (universities) across Canada, U.S., and Europe who go on different brigades, and different countries. We are more than happy to pair you up with one of the chapters to the brigade (medical/dental, public health, water/engineering, business, or human rights) and country (Honduras, Panama, Nicaragua, or Ghana) of your choice!